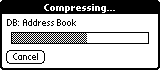 " On US or English Visor, the software of the ROM are all in English... There is no flash memory on Visor, so it is thorically not possible to replace them to have a French or german interface. In fact, it is possible to install on Visor foreigner versions of To Do List, Memo Pad, Adress Book (for DateBook it is not really interessant considering the DateBook version + of Visor is more powerful). To do that, you have to use another Palm (Palm V for example), install the great PZ software (a zipper for Palm platform) and BeamWare or BeamBox, two programs that allow easy beaming of anything on the Palm. The procedure is particular but not very complicated : you need first to zip the three software on the foreign Palm, then beam them to the Visor. After installing UNPZ on thi Visor, you just have to uncompress them. The Visor warn you that you can delete the original softwares but in fact, no problem can be experienced as they are on ROM. You then have the software appearing twice, certainly, but in French. The good news is that the Visor take this last programs as the default ones. All that take only 110 Kb of your RAM.
Note: the procedure is the same one if one wishes to transfer CityTime to an owner from Palm, it is not need for the ziper, it is enough to the beamer directly. "
Stef
You will find the compressor Pz & Unpz at this address and BeamWare here . Thanks a lot Mister Steven Jr III
Note: this handling is described with indicative goal and you must be conscious that this type of transfer enfreint the ownership of the PDA manufacturer.